Fix these 10 issues for higher sales conversion
Your business website is the 24/7 public face of your company. But how well is your website working for you?
To do its job well, your website needs everything to be ship-shape. If you're like most business owners, you probably have website errors that you don't even know about. Major issues like broken links, missing content and slow page speeds cost you a fortune in lost customers.
Today we're going to help you check your website for errors and improve your sales conversion.
Here's our checklist for the 10 essential elements for business website success:
Install an SSL certificate
Set up Google Analytics
Claim Google My Business Listing
Set up Google Search Console
Fast Page Load Speed
Mobile Responsive Design
Check for broken links
Create a custom 404 page
Content filled out - No blank pages
Claim free Yellow Pages listings
How does your business website rate? Have you nailed all 10?
Don't worry if you haven't: most business websites wouldn't score 10/10. Read on to learn why each of these elements is so important.
1. Install an SSL certificate
Keep your customers' data safe while they're using your website.
When your website visitors fill in a contact form or buy something through your online store, they're transferring data that's valuable to hackers.
Data breaches cost companies millions of dollars a year worldwide. Plus a whole lot of embarrassment and loss of customer trust. You definitely don't want that to happen to your business.
Protect your customers' data from being stolen by installing an SSL certificate on your website. The SSL certificate encrypts data travelling between your website and the server. Encrypted data is harder for hackers to steal, so SSL gives you and your customers peace of mind.
Learn more about SSL certificates here.
2. Set up Google Analytics
Google Analytics is the essential data source for your website.
Google Analytics helps you track:
Website traffic – website hits, popular days and times and special event traffic like promotions
Visitor location
Visitor demographics – gender and age
Device usage – desktop, mobile, tablet
Page views – most popular pages on your site
Time on site – how much time they spent reading each page
Conversions – how many visitors bought something through your online store
Acquisition – how the visitor came to your website – search results, ad, social media or via a link from another website
When you understand what your website visitors find engaging you can give them more information like that. And on the flip side, if they're clicking off a page within seconds, it's not engaging enough and needs work to make it convert to sales.
Learn more about using Google Analytics for your business website here.
3. Claim Google My Business Listing
Capture local customers and display contact information with a Google My Business listing.
This is an essential step for bricks-and-mortar businesses because your website is a catchment for local customers.
A Google My Business listing helps your customers:
find what they need in their area, like "Italian restaurant near me"
check opening hours
call your business to ask a question
find your business on Google Maps for easy directions
The top 3 location-based listings for "gift shop Melbourne CBD" appear in search results above the organic rankings, like this: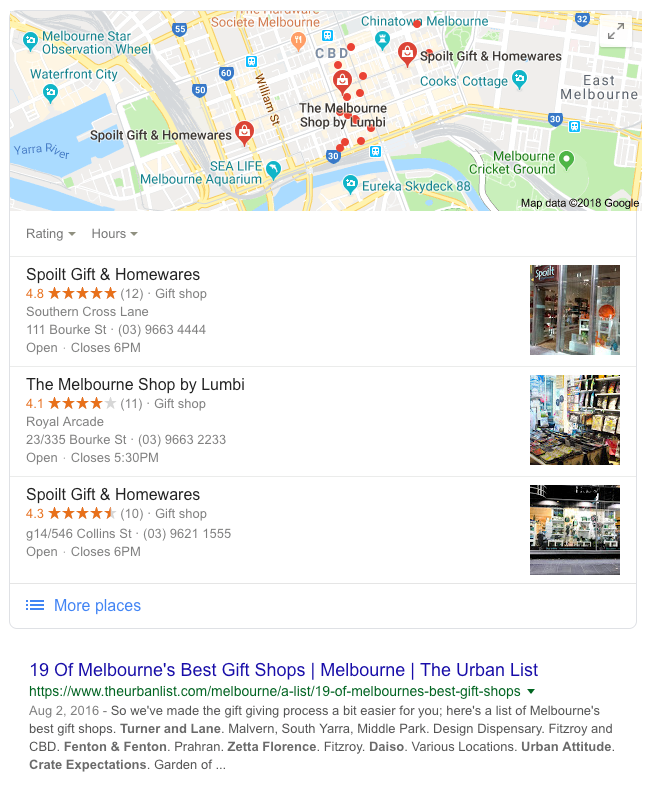 Here are some more reasons why location-based listings are powerful:
71% of people surveyed say they look up a business online and confirm its location before visiting
50% of people who conduct a local search visit a store that day (like "shoe repair near me")
It's an easy way for customers to see that you sell what they want in their area – and BOOM, they're straight onto your website, or on their way to your store.
Get started with a Google My Business listing here, or ask your web developer to help you set it up.
4. Set up Google Search Console
Monitor Google's indexing of your site and check for issues.
Google Search Console helps you to:
Submit new content to be crawled and indexed by Google
View crawl errors such as broken links
Submit a site map to make sure Google indexes your pages
Discover which keywords brought customers to your website
Monitor and resolve malware or spam issues
Backlinks – see which websites are sending links to your website
Check mobile usability (see point 6)
Here's an article on how to set up Google Search Console. It gets a bit technical, so if you're not confident, ask your website developer for help.
5. Fast Page Load Speed
Make sure your website pages open FAST.
Have you ever got bored waiting for a website to load? Yep, everyone has, and we simply click Back and try another page.
If your website is slow, you're losing customers.
Check your website's page load speed with Google's PageSpeedInsights.

If your page load speed is slow, there are a few things you can try to improve it:
Compress images – small image files are faster to load
Check server response time – ideally under 200ms. [Pro Tip] If your website host is overseas, changing to a local host can improve page load speeds
Reduce redirects – too many redirects can slow down your page load speeds
Learn more about page load speed on the MOZ blog or ask your website developer for help.
6. Mobile Responsive Design
Make your website easy to use on a mobile device.
A smartphone is now our first source of information; it's right there, in our hands or pockets. So it makes sense for your business website to be mobile friendly.
If your website is hard to use on mobile, you're causing frustration and losing sales.
A mobile responsive website adapts its design to suit the device:
graphics change position to suit the screen size and orientation
text size is readable on a small screen
buttons are easy to click with a finger
Google knows that (just about) everyone is using a mobile for search, so they've started Mobile-First Indexing. This means mobile-friendly websites will appear higher in the search results.
To check if your website is mobile responsive, Google has a Mobile Friendly Test. Type in your website URL and it gives you a review:

The mobile friendly test also tells you if there are any issues:
website items that didn't load correctly on mobile
link text that is too small
buttons that are too close together
Read more about why your website should be mobile responsive here.
7. Check for broken links
If your website has broken internal links, it'll drive your customers mad.
They want information, they know it should be there, but they can't get to it. A broken internal link lands on the "404 Page not found" error:

It's majorly annoying to land on this page. But there are two things you can do to reduce frustration for your customers:
Find and fix broken links
You can check links yourself by clicking around your website, checking each link on each page goes to the right place. If you have a small website, this won't take long.
But if you have a big website, or you want to make sure you don't miss any, use Google Search Console to find broken internal links. This is called an internal links report. Identify all broken links and fix them in your CMS.
The second thing you can do to help customers who get lost on your website is Tip 8:
8. Create a custom 404 page
The standard 404 error is pretty boring; it's just text saying "the page you were looking for can't be found".
Create a helpful 404 error page, and better yet, make it interesting
The 404 error can be a moment for you to surprise and delight your customers. A simple way to make it helpful is to include a list of pages they might have been looking for, like this cute example from Airbnb: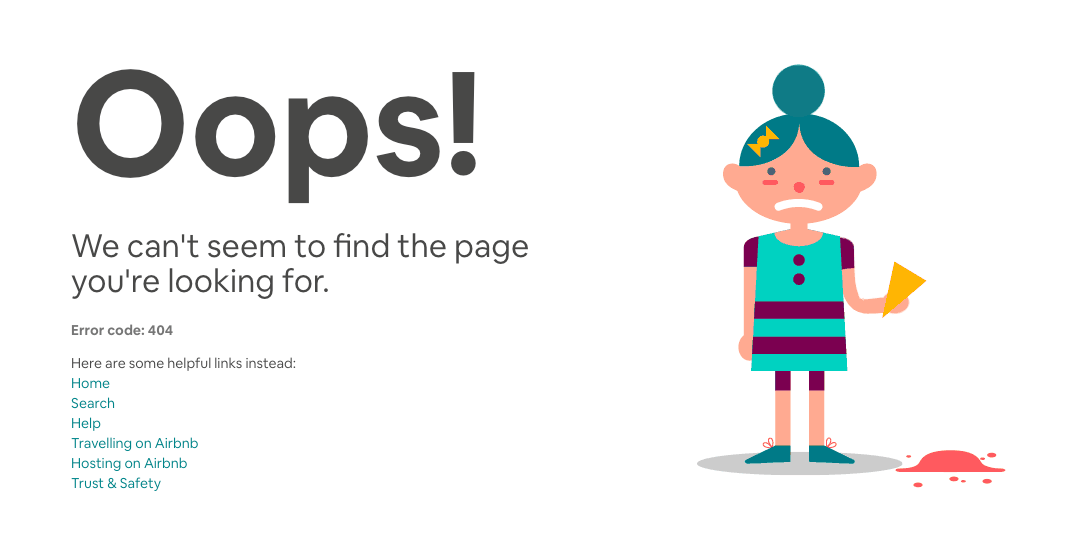 The 404 page is also your chance to show a bit of brand personality and have fun despite your embarrassing moment. Here's a great example from online dating site eHarmony: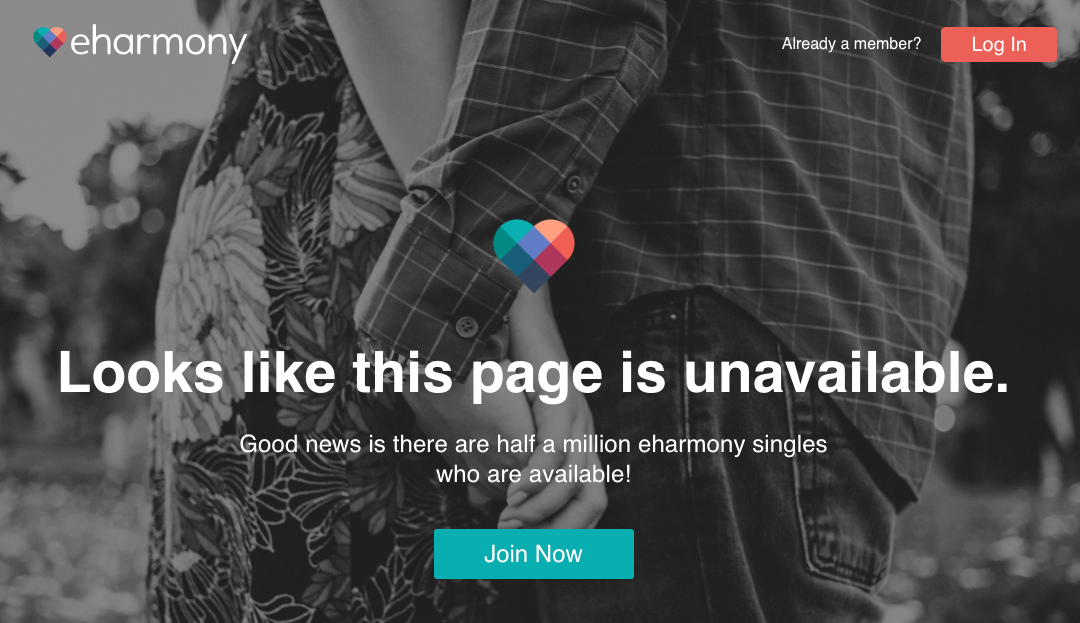 Set up a custom 404 page that suits your business, and use it as a chance to surprise and delight your customers. Here's some more inspiration.
If you don't know how to create a custom 404 page yourself, ask your web developer for help.
9. Content filled out - No blank pages
Empty pages make you look lazy and disorganised. There, we said it. Now let's fix them.
It's so easy to "unpublish" and "hide" incomplete pages, so there's no excuse for blank pages on your website. Hide those offending blank pages from your website navigation or insert some basic text. Even one or two paragraphs of text is better than a blank page.
Since your website is your 24/7 salesperson, give it something to show people. Engaging website content is critical to your business success. So if you don't have time to write great content yourself, hire a copywriter who can get it done for you.
10. Claim free Yellow Pages listings
Although Google search is the most popular, not everyone uses Google first. It pays to list your business on several search platforms, especially when the listing is free.
Your free Yellow Pages online listing includes:
business name
business category
address – option to show suburb only if you want to keep your home office address private
contact details – phone number and website address
A free Sensis listing covers Yellow Pages, White Pages, Whereis and True Local.
Need help making changes to your website?
This list helped you identify problems with your website. Now it's time to fix them and improve your conversion rate. In fact, every little bit helps to create a wonderful user experience for your customers, so it's worth investing your time.
If you need help to fix issues in any of the steps, contact your website developer for support.